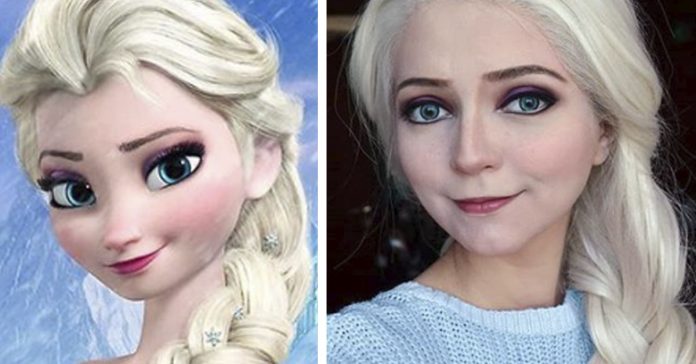 Últimamente, parece que está de moda traer de vuelta a nuestros clásicos favoritos, como hace Disney con los remakes de sus películas. Pero Disney no es la única, conoce a Ksenia Perova, una cosplayer de 21 años de Rusia.
Perova ha estado haciendo cosplay desde 2014, y gracias a sus características únicas combinadas con su arte, ha acumulado muchos seguidores, 69,9k en Instagram para ser exactos.
«Mi primera con fue Ava Expo 2014, y fui de Oswin Oswald», escribe en su cuenta, «Fue muy extraño y adorable cuando la gente me pedía que me hiciera una selfie», pero solo tienes que echar un vistazo a sus fotos para entenderlo. Por eso ella se ha convertido en tal sensación. De Kim Possible a Corpse Bride, la joven artista le da vida a cada personaje con un realismo asombroso.
Aunque la joven parece tener un talento natural, escribió que no recuerda qué fue exactamente lo que la inspiró a comenzar en el mundo del cosplay: «Creo que otros cosplayers me inspiraron». «He estado viendo fotos geniales en páginas web y quería hacerlo yo misma».
En cuanto al futuro, la cosplayer está deseando diseñar un disfraz de su personaje favorito de la infancia, Mulán, «Necesito comprar nuevos materiales porque quiero que este cosplay sea perfecto». ¡Desplázate hacia abajo para ver los impresionantes cosplays de Perova!
Los 20 mejores cosplays de Perova
Elsa, de Frozen
Vampiro de Hotel Transylvania
Frodo, de El Señor de los Anillos
Wendy, de Gravity Fall
Arya Stark
Mantis, de Guardianes de la Galaxia
Bella, de La Bella y la Bestia
Miércoles, de La Familia Addams
Kim, de Kim Possible
Princesa, de Ralph Rompe Internet
Victoria, de La Novia Cadáver
Vampiro, de Hotel Transylvania
Ellie, de The Last Of Us
Daria Morgendorffer, de Beavis And Butt-Head
Mulán
Personajes de Hotel Transylvania
Arya Stark
Bellatrix, de Harry Potter
Elizabeth Bioshock
Alita: Battle Angel
¿Qué te han parecido sus transformaciones? ¡Publica tus impresiones en la sección de comentarios!
¡No olvides compartirlo con tus amigos y familiares!